Kimberly Azzarito ERYT 500
Yoga Instructor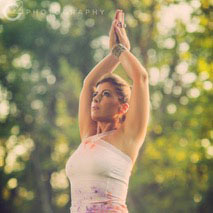 Kimberly Azzarito teaches yoga in an approachable way to every BODY. She empowers her students by weaving yogic traditions, stories, and myths with dynamic movement and alignment on the mat and opens the narrative between body, breath, and mind through authentic expression.
Kimberly believes in the deep power of storytelling. It's the reason myths are passed down in all traditions and cultures. The telling of a story can bring us into alignment with inspiration, spark creativity, give insight into life's challenges, touch the heart, and commission the soul.
Being affected by Scoliosis in her early 20's, Kimberly's curved spine caused her great pain. In the early 1990s, Kimberly began her yoga journey. She learned that through a consistent practice, her scoliosis could be healed and painful knee injuries are now strengthened and stable.
Kimberly received her 500 hr RYT through Shanti Yoga Teacher Training and believes that the key is to stay flexible in body, mind and spirit. She teaches the wisdom of Joseph Campbell, "the privilege of a lifetime is to be who you are."
She leads group classes at Yoga Tree of Boise, Sage Yoga & Wellness and the Treasure Valley West Y. She also incorporates wellness programs for the State of Idaho employees. Kimberly believes a good teacher never stops being a student. The list of teachers that inspire her is long and she is full of gratitude towards each including Dharma Mittra, Shiva Rea, Sianna Sherman, Jason Crandell, Leslie Kaminoff, Debbi Murphy, Max Strom, and Erich Schiffmann.
Everything is connected; when we open to the practice of yoga on the mat, not only do our physical bodies become stronger and more supple but our minds become flexible, our hearts grow in empathic compassion, our creativity inspired and the remembrance that we are beings of light.
Classes Taught
Yoga Flow
Sundays 10 – 11:30am